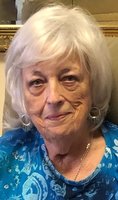 Patricia A. Dolan
Patti Dolan passed away on Monday, December 24, 2018, at the age of 83. She was a beloved daughter, cousin and friend and will be greatly missed by all. Born on August 22, 1935 in Brooklyn, New York to Thomas S. Dolan and Jean Flynn. Patti is survived by her cousin Ellie and Jose Sabtiesteban and their children, Caitlin and Zachary of Granite Falls, Washington and a cousin John and Jean Flynn of Adelaide, Australia.
She was predeceased by her parents and her brother, James Dolan. She was a longtime resident of Peekskill and Cortlandt Manor, New York.
In 1959 she graduated from Prospect Heights Hospital School of Nursing in Brooklyn, New York and began her nursing career at Kings County Hospital in Brooklyn. In 1966 she moved to Peekskill continuing her nursing career at the Montrose Veterans Hospital, Montrose, New York and retired in 1985.
Patti will be forever remembered by her greatest gift of love, caring and devotion. Adored by all and always had a kind word to say to everyone. Her friends were life-long and writing was very special to them and to her. She was truly blessed with a giving spirit.
A Memorial Service will be held at the Assumption Church on Saturday, December 29th at 11:30 am. Burial immediately following the service at the Assumption Cemetery, 1055 Oregon Rd, Cortlandt Manor, NY.