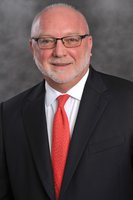 Ossie T. Dahl
Ossie Dahl of Cortlandt Manor, NY would resent this obituary. Partially because he hates publicity, but mostly he'd be mad he left this world just one week into retirement.
On January 11th, at the age of 64, our big, kind and gentle Ossie, passed away while celebrating his 40-year career with White Plains Hospital. His last moments were spent expressing love, gratitude and happiness, surrounded by his closest family, friends and colleagues.
The things he loved most were: spending time with his beloved wife, Donna; reminiscing over wine with his brothers, Steve Dahl and Kenneth Dahl (Celia); bonding over menus with his daughter, Lauren Cummings (Chris); life chats with his son, Matt Dahl (Jessica); being "Pa" to his grandsons, Tyler and Ryan Dahl; and spoiling his eight nieces and nephews.
His family, colleagues, "Monday Night Cards", friends of 50 years, and Fran Dahl, his children's mother, will continue to celebrate his life and keep his memory alive through stories.
Visitation will be held on Tuesday, January 15th from 2:00-4:00pm and 6:00-9:00pm with a chapel service at 8:30pm at Joseph F. Nardone Funeral Home, 414 Washington Street, Peekskill, NY 10566.
Private Cremation Service to follow.
In lieu of flowers, donations can be made to www.wphospital.org/powerofone