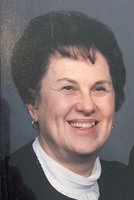 Helen A. Gortmaker
Helen A. Gortmaker, who spent most of her life in the Chicago area, died peacefully January 26 in Croton-on-Hudson, NY, surrounded by family. She was 93. She will join her husband of more than 65 years, George W. Gortmaker, who died in April, 2011.
A loving wife, mother, grandmother, daughter, sister, and aunt, Helen grew up in Chicago with her Norwegian immigrant parents, Judith and Alfred Iverhouse, She worked at secretarial, bookkeeping and sales jobs at her husband's electrical contracting business, at Proviso West High School in Hillside, and at the former Marshall Field's in Oak Brook. She most enjoyed her work at the high school where she guided teenagers interested in audiovisual work, and treasured those interactions. She and George were active in their church, Westchester Community Church, belonged to golf and bowling leagues, and loved to square dance. She also headed up a local Girl Scout troop, maintained flower and vegetable gardens, and was a healthy eating advocate since the 1960s.
Helen is survived by her two children, Steve Gortmaker (Betsy Pugh) of Belmont, MA, a professor at Harvard University ; and Linda Simon (Len) of Croton-on-Hudson, a writer and retired middle school English teacher. Helen and George were the proud grandparents of Jeffrey and Christopher Gortmaker, and Matthew, Jonathan (Tara Zabor) and Timothy Simon. Her sister Ruth Sommer (Hans) lives in San Rafael, California, and her brother Alfred Iverhouse passed in 2011.
Private service details are pending, and Helen will
finally will join George at his family plot in Parker, South Dakota, his childhood home.