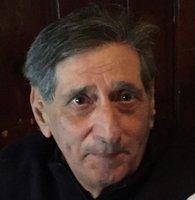 Liborio DeFrancesco
Liborio (Lee) DeFrancesco passed away peacefully on February 5, 2019 at the age of 72. He is survived by eldest son Lee DeFrancesco, son Christian DeFrancesco, Daughter Irena DeFrancesco Marussich, son-in-law Andrew Marussich, and granddaughter Jessica Marussich. Brothers Anthony and Vincent DeFrancesco and countless nieces and nephews.

Liborio has been enjoying his retirement years being involved with the American Legion in Yorktown where he made many friends sharing the special bond of being a veteran. He was very proud of his service in the United States Army.

He enjoyed spending time with his sons, daughter and granddaughter going out to countless dinners, Italian food of course, and spending holidays with his family, he will be missed especially on Christmas Eve.

Visitation will be held at Joseph F. Nardone funeral home 414 Washington St., Peekskill, NY on Thursday February 7, 2019 between 4:00 PM and 8:00 PM.
Funeral service will be held on Friday, February 8, 2019 at Joseph F. Nardone funeral home 9:00 AM to 10:30AM
Interment to follow at the Rose Hill's Memorial Park Cemetery, Putnam Valley, NY 11:00am

Liborio you will be missed.