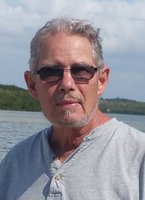 Ward A. Reynolds
To my devoted husband and our loving father:
Your friends may call you Ward and acquaintances Mr. Reynolds, but to me you are my "honey" and to us you are simply dad. Our amazing, loving father. Your six grandchildren, Hailey, Samantha, Heather, Hannah, John and Jessica were so lucky to have you as their Gpa, we just wish it could have been longer. As your bride for over 53 years my heart is broken because I miss you so very much already, as we all do. You put up a courageous fight against that killer mesothelioma. We know the battle was difficult and we are so proud of all you did to stay with us. We truly know how hard it was for you. We want you to know that we love you and you have given us so many fantastic memories that we will never forget. It was 76 years ago on February 10, 1943 that you were born to Ralph and Dolores Reynolds in Yonkers, NY where you spent 24 years. We know that your brother, Ralph, will truly miss your cross county adventures. You were a steamfitter for 32 years and then made an amazing selfless life change to become a nurse after the untimely passing of Nancy, your sister. You then so caringly worked with terminal cancer patients at Rosary Hill for 20 years. Even before then, you always tried to find a place you could help and then give all you could give. Because that is what you have been about for so many years. You would go out of your way to assist someone who needed you with no expectations to follow. We know how much you enjoyed the 20 years you spent in the scouts and those years, as difficult as they were, when you volunteered for hospice. We also remember when you were a tutor at Boces helping people get their GED. We know how much you loved to camp, fish, golf and just spend time with all of us and your friends. We love you and we will miss you dearly.
How do we describe you my loving husband, our father, and our friend for those that do not know you?
Loving, kind, generous, amazing, intelligent, sympathetic, empathetic, strong, nurturing, one of a kind, our oak tree.
We will celebrate your life on Friday, June 28th from 2:00pm to 4:00pm and 7:00pm to 9:00pm at Joseph F. Nardone Funeral Home in Peekskill, NY. Chapel service to be officiated on Saturday, June 29th at 10:00am proceeding to Rose Hills Memorial Park Cemetery on Mill Street, Putnam Valley, NY
With eternal love, your wife Carol and children Steven, Michael, Ward (w. Karen) and Wendy (h.John)
In lieu of flowers donations can be made to Rosary Hill or Hospice Care in Westchester & Putnam Counties