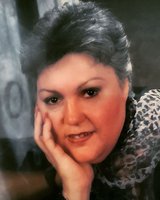 Norma Torres
NORMA TORRES OF THE BRONX,NY PASSED AWAY PEACEFULLY ON JUNE 3, 2020. SHE WAS 70 YEARS OLD.
SHE WAS BORN ON MAY 8, 1950 IN CABO ROJO, PUERTO RICO.
SHE LIVED IN THE BRONX SINCE THE AGE OF SEVEN. ON OCTOBER 3, 1970 SHE MARRIED THE LOVE OF HER LIFE ALFREDO TORRES. SHE HAD TWO WONDERFUL CHILDREN.
SHE WAS SOMEONE WHO WAS COMPLETELY SELFLESS AND HAD A LOT OF SPUNK. SHE WAS ALWAYS THERE WHEN YOU NEEDED TO TALK AND LOVED HER FAMILY AND FRIENDS. SHE ALWAYS COOKED HUGE MEALS AND LOVED TO GO SHOPPING. SHE HAD A HUGE PASSION FOR BINGO AND DONATED MOST OF HER TIME TO RUN BINGO AT MOUNT SAINT MICHAEL ACADEMY IN THE BRONX. SHE WAS VERY WELL RESPECTED AND LOVED BY HER BINGO FAMILY. WHEN SHE HAD TIME AWAY FROM BINGO, SHE ALSO LOVED GOING TO THE CASINO.
SHE IS SURVIVED BY HER HUSBAND ALFREDO TORRES, HER MOTHER MARIA CUASCUT, HER DAUGHTER AND SON-IN-LAW TINA AND CASIMIR ST. JUSTE, HER SON AND DAUGHTER-IN-LAW ERIC AND MICHELE TORRES, HER GRANDCHILDREN CASIMIR, NICHOLAS, JOSEPH, JENNA, AND MATTHEW, HER SISTERS CHICKIE AND CARMEN, NIECES, NEPHEWS, COUSINS AND MANY FRIENDS.
SHE WILL BE DEEPLY MISSED AND REMEMBERED FOREVER IN OUR HEARTS.