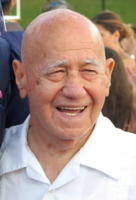 Marco Santiago
On Wednesday, June 3, 2020, Marco Santiago, loving husband, father of four children, and four grandchildren passed away at the age of 84.
Marco Santiago was born on April 25,1936 in Naguabo, Puerto Rico to Martin and Josefa Santiago.The fifth of eleven children, Marco was surrounded by a loving family that would remain close throughout his life.
In 1949 at the age 13 Marco moved to Bronx, New York with his family where he would eventually meet his wife of 57 years. On June 16, 1963 he married Teresa Gonzalez Figueroa. Together they raised four children Marco Jr., Diana, Armando, and Martin.
Marco will be remembered as a devoted and faithful husband, loving and nurturing father, caring and humorous brother and uncle who had a zeal for life. He was a man of God who was always in service others and those who had the pleasure of knowing him was endeared by selfless, loving nature, infectious smile and compassionate spirit.
Marco loved baseball and was an ardent fan of the New York Yankees. So much so, that he had hoped to one day see one of his sons or grandsons play for his beloved team. Of course we all knew he was kidding himself and often laughed about it, even to this day. He loved fishing and spending every moment of his retirement with his grandchildren whom he helped raise.
He was a loving and devoted husband caring for his ailing wife always tending to her needs to the very end.
Thank you Dad for all that you've done for us and for always being our compass. We love you and we will miss you always. Rest easy, we'll take it from here.
Marco was preceded in death by his father Martin and his mother Josefa. He is survived by his wife Teresa, his four children, Marco Jr., Diana, Armando and Martin, his 10 bothers and sisters, nieces and nephews.
Visitation will be held on Wednesday, June 10, 2020 from 9:00am to 12:00pm at Joseph F. Nardone Funeral Home, 414 Washington St, Peekskill, NY.
Memorial Chapel Service will take place from 12:00pm to 1:00pm following his hours of visitation at Joseph F. Nardone Funeral Home.
He will be laid to rest immediately following at Hillside Cemetery in Cortland Manor, NY.