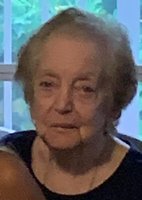 Adela Perez
Adela Perez passed away peacefully at her home on June 4, 2020, she was 93 years of age.
She was born on February 16, 1927 in Santruce Puerto Rico to Diego and Maria Malcun. She was one of four children, Jose, Jesus, and Aida. She moved to New York in 1947.
She met the love of her life Daniel and they were married in 1949 and went on to raise three wonderful children. She went on to work as a bookkeeper and retired in 1988. She had a happy and full retirement, enjoying her four grandchildren immensely.
She is survived by her sons; Daniel, Robert, Richard, Grandchildren; Vanessa, Andrew, Daniel-John, Ashley.
She is pre deceased by her spouse Daniel Perez of 67 years.
Visitation will be held at Joseph F. Nardone Funeral Home on Monday, June 8, 2020 from 4:00pm to 8:00pm.
Entombment will take place at Woodbridge Cemetery on Tuesday, June 9, 2020 at 11:30am.