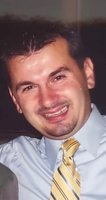 Steven Lukic
Steven Lukic was born on November 14th, 1968 in San Biagio, Italy. He passed away peacefully, surrounded by his loving family, in his home in Croton-on-Hudson, New York on July 23rd after fighting a tough battle with cancer. He was 51 years of age.
Steven is survived by his wife Lisa and son John and daughter Melanie, his parents Djoko and Lula, his siblings Mark, and Maria. He was a caring uncle to two nieces Veronika and Violet and nephew Luke.
Steven will always be remembered as an incredibly strong person and known to his family and friends as an amazing, humorous man who can always make you laugh. He loved life and would never take it for granted.
All are welcome to attend and celebrate Steven's life.
Visitation will be held at Nardone Funeral Home on Monday, July 27th, 2020, from 3:00 pm to 9:00 pm.
Funeral Mass will be held on Tuesday, July 28th, 2020 at 10:00 am at Holy Name of Mary Church, 110 Grand Street, Croton on Hudson, NY 10520.
Interment will follow at Gate of Heaven Cemetery at 10 W Stevens Ave, Hawthorne, NY 10532.
Remembrance may be made in form desired from friends.