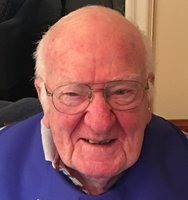 Joseph Milazzo
Joseph (Sonny) Milazzo, age 92, of Valley Cottage, NY, passed away on January 7th, 2021.
Beloved husband of the late Vivian Milazzo. Loving father of Mary Bates and her husband Steve of Monroe, NY, Jack Milazzo and his wife Jeri of Valley Cottage, NY, and Geraldine Salamone and her late husband Matthew of Goshen, NY. Devoted grandfather of Matthew Salamone and his wife Nicole, Vivian Salamone, Nicole Salamone, Joseph Salamone and his wife Kristy, Frank Bates and his wife Kristin, and Jenna Milazzo. Step-grandfather of Nick Moreschi, Donna Ayala, and her husband Jessy. Great-grandfather of Nicholas, Lyla, Matthew, Adriana, Andrew, and Madison. Step-grandfather of Carmelo and Chloe.
Joseph had five sisters (Jenny, Angie, Lucy, Vera, and his twin Ellie), and one brother (Charlie) who have all passed.
Joseph served in Korea, was a construction worker and film processor, before retiring and relocating to Vero Beach, Florida with his wife Vivian.
Due to Covid-19, the family is having a very private gathering for his children and grandchildren at
the Nardone Funeral Home, 414 Washington Street, Peekskill NY 10566, on Saturday, January 9th, 2021, from 1:30 to 3:30 pm.
Joseph will be cremated, and his and his wife's ashes will be placed in a memory garden at Ferncliff Cemetery.