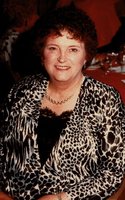 Annie J. Cummins
Annie Cummins (formerly of Birmingham, England, Brooklyn, Mamaroneck, NY) passed away peacefully on February 24, 2021, in White Plains, NY. She was 93 years old.
Annie was born in Birmingham, England. She grew up during WW II, Air raids and running to the bomb shelter were everyday occurrences. At age 11, she was evacuated to live in the county on a farm.
At the age of 17, she married Patrick J. Cummins and immigrated to the US as a "War Bride''. She then became a citizen in 1954.
Annie became a busy homemaker and raised seven children. She completed her GED and continued at school to become a private baby nurse and nanny. She was an active member of the Rosary Society at Mary Queen of Heaven Church in Brooklyn, and a volunteer for the Altar Society.
After retiring, Annie and Pat moved to Mamaroneck, NY. Where she joined seniors. Annie enjoyed reading, sewing, knitting, and crafts. She also received great pleasure from her grandchildren and great-grandchildren.
Annie is predeceased by her husband Patrick, her son Michael and her brothers and sisters, son's-in-law James and Patrick.
Annie is survived by her sons Patrick, Thomas (Frances), Stephen (Tiana), her daughters Margaret Kinane, Eileen, Anne Marie Lynch, 11 Grandchildren, and 11 Great Grandchildren.
Visitation will be held at Joseph F. Nardone Funeral Home, 414 Washington Street, Peekskill, NY, on Wednesday, March 3, 2021, from 2:00 pm to 6:00 pm.
Funeral Mass will be at Church of the Holy Spirit, 1969 Crompond Road, Cortlandt Manor, NY, on Thursday, March 4, 2021, at 10:15 AM.
Interment to take place at Calverton National Cemetery at 1:30 pm.
In lieu of flowers, the family requests donations be made to the American Diabetes Association.