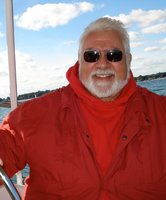 James A. Seirmarco
James Anthony Seirmarco, of Buchanan, NY, passed away on February 28, 2021. He was 78 years old.
Mr. Seirmarco started his career at the IBM Thomas J. Watson Research Center in Yorktown Heights before transitioning to engineering management at IBM's East Fishkill campus. After IBM, Mr. Seirmarco worked for Sony's Materials Research Corp. in Orangeburg. Upon retiring from the semiconductor industry, he spent 10 years driving school children for the Hendrick Hudson School District, including many wonderful students with special needs. Mr. Seirmarco also served his community in roles on the Village of Buchanan and Town of Cortlandt planning and zoning boards for multiple decades. He was an avid sailor, especially fond of Fishers and Block Island Sounds.
He was born on September 3, 1942, in Nanuet, to Frank J. Seirmarco and Rose Seirmarco (née Mancuso). After graduating from Hendrick Hudson High School, he earned bachelor's and master's degrees in physics from Marist and Vassar Colleges, respectively.
Mr. Seirmarco married Sharon Marie Miller, on May 23, 1962, at St. Patrick's Church in Verplanck. They were married 56 years, and have two children. Their daughter, Sherri Lee Seirmarco, resides in Denver, CO; and their son, James Jay Seirmarco, resides in San Francisco, CA, with his wife Elizabeth A. Seirmarco. Mr. Seirmarco has two granddaughters, Sofia A. Seirmarco, a sophomore at Lewis & Clark College in Portland, OR, and Julietta Seirmarco, who will be a freshman at Occidental College in Los Angeles, CA, in the fall. He was predeceased by his sister, Frances King, and his brother-in-law, John Farley King, Jr., of Cortlandt Manor.
Visitation will be held at Joseph F. Nardone Funeral Home, 414 Washington Street, Peekskill on Thursday, March 4, 2021, from 3:00 pm to 7:00 pm.
Mass of Christian Burial will be held at St. Patrick's Church, 240 11th Street, Verplanck on Friday, March 5, 2021, at 11:00 am.
Interment will take place at St. Patrick's Cemetery, 345 Broadway, Verplanck.
For those wishing to make donations in Jim's honor, the family suggests either Cortlandt Community Volunteer Ambulance Corps. or the SPCA of Westchester, Inc.