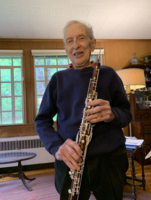 Paul Edward Laubin
Paul Laubin was the first of three children born to Alfred Barr Laubin and Lillian Ely de Breton on December 14, 1932, in the midst of a blizzard in Hartford, Connecticut. As he told the story, he was a breech birth baby and did things his own way ever since. His father Alfred played the oboe professionally and was a music teacher at the Hartt School of Music. The year before Paul was born, Alfred had decided that he wanted to try his hand at making his own instruments, and much to the chagrin of Lillian, began melting down the family silverware to make keys for his first instrument. He did not want his son, Paul to learn to play the oboe. When Paul insisted that he wanted to learn, Alfred allegedly handed him an oboe, a reed, and a fingering chart, and told Paul that he could teach himself to play. In 1946, the family moved to Scarsdale, New York, Alfred set up shop in his basement, where Paul, began learning to help Alfred to make oboes. At 16, Paul also worked weekends and after school at the local Texaco gas station repairing cars and pumping gas. He graduated from Scarsdale High School in the class of 1950. He had a brief position as a lab assistant in a chemistry lab at Borden. Soon after, he left for Baton Rouge, in his 1932 Pontiac, to attend Louisiana State University on a scholarship. He majored in music performance and minored in auto mechanics. He learned to play saxophone and clarinet in the marching band at football games.
After two years, Paul decided that he wanted to play oboe full time. He made his way to Atlanta, where he played the first oboe in the Atlanta Symphony for one season. Returning home to Scarsdale NY, he began working full-time for his father making oboes in the home workshop. He worked nights playing oboe freelance for community orchestras and began taking weekly car trips to Boston, Massachusetts to study privately with his mentor Jean DeVergie (second oboist of the Boston Symphony Orchestra). His time studying oboe with DeVergie in Boston led to learning French cooking, including a fantastic recipe for French onion soup. A friend introduced him to Meredith Van Lynip, a young flute student studying at the New England Conservatory. After a two-year courtship, Paul and Meredith were married at the Riverside Church in New York on October 22, 1966.
There were two years when the oboe shop moved to the shop of Penzel Mueller in Long Island City. To reduce the driving commute, in 1968, the oboe shop moved to Elmsford, NY to allow additional employees to join the company. Paul worked with Alfred and Bill Glover, David Teitelbaum, Virgilio Roman, and Robert Chauvet, making oboes and English horns. Working nights as a professional oboist, Paul played oboe and English Horn in the Norwalk, Ridgefield, and Greenwich Symphony Orchestras, as well as Teaneck, New Jersey, and the New Jersey Symphony. In Westchester, he and Alfred both played in the orchestras in Yonkers, New Rochelle, and the Westchester Philharmonic. Paul and Meredith bought a tiny house in Mahopac, New York, and started a family. When Alfred Laubin passed away in 1976, Paul took over the business and continued his father's work of making the highest quality hand-crafted instruments beloved by professional musicians and amateurs alike, all the way up until his sudden death of natural causes at the age of 88. His wife, Meredith, worked to manage the business affairs for over 20 years.
In 1988, the shop was moved to its location in Peekskill, New York, where it became a hub for musicians coming from New York City on the train. His son, Alex, joined the business in 2003, as the office manager, as well as learning woodwork and metalworking skills. Paul took great pleasure in having his son working in the family business and spending time with him every day. But no matter how the world changed around him, Paul always insisted that his oboes would be hand-made, one at a time, and lovingly hand-finished and tested out in the shop in Peekskill before they were sent to a devoted customer. Paul's passion for perfection was legendary, and he was always looking for ways to make the sound of his instruments match the Platonic ideal of an oboe in his mind. Customers would make plans months in advance to come to the shop in Peekskill to have their instruments repaired or pick up a new instrument and try it out in the shop under the portrait of Alfred, and to talk with Paul about their concerts and their lives as musicians.
Paul was also an avid bicyclist, and for several years, when the weather cooperated, he rode his bike to and from work. He participated in the Annual Tour de Putnam 50-mile bike rider for many years. He loved to tell his family about his top speed each time he went out, becoming positively gleeful whenever he could pass other cyclists and cars on his ride. Paul was a loving father to his two children, Michelle and Alexander, and was always proud of their accomplishments. Paul is survived by his wife of 54 years, Meredith (Lynip) Laubin, his children Michelle Laubin (Michael Rizzuto) and Alexander Barr Laubin (Sember Weinman), his grandchildren Rowan and Calder Laubin, his sister Vanette Arone and her children Debra Westerfeld, Donna Cores, and Ralph Arone, Jr., and his brother Carl Laubin (Christine Laubin) and his children Sophie Sarkodie, Max Laubin, and Lucy Mamiya, as well as his grandnieces and grandnephews.
A celebration of life ceremony will be planned for the spring. In lieu of flowers, memorial contributions can be made to WQXR (www.wqxr.org/donate ) or the Musical Instrument Museum of Phoenix AZ (www.mim.org ).