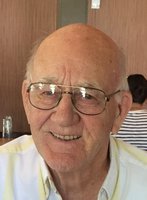 Eddy Levesque
Eddy Levesque passed away on March 16, 2021, from complications related to Alzheimer's disease. He was born in Saint-Léon-le-Grand in the province of Québec, Canada. He was one of 18 children who all worked the farm to support their family. He left the farm at the age of 15 with little education to help support his family by working as a lumberjack. At the age of 19, he traveled, looking for work, and ended up in Nova Scotia, where he worked as a lobsterman. After a tragedy took his boat, he accepted a contract from the United States government to help construct radar towers in Goose Bay, Labrador. It was then he decided it was time to come to the United States for a new life. He immigrated here in 1956 where he lived in Ossining, New York.
After working odd jobs and going to night school to learn English, he became a union carpenter. As an immigrant, he wasn't readily accepted which led to one of his greatest accomplishments, becoming an American Citizen – which was his motivation to strike out on his own. He became a successful and well-respected building contractor and owner of his own construction company. As a well-respected member of his community, he was a lifelong member of the Peekskill Elks Club and former Vice President and Treasurer of the Exchange Club of Peekskill.
He loved golfing and skiing, earning the 75+ designation by the National Skiing Organization. He skied actively until an injury sidelined him at age 85. He loved the outdoors and going on walks. He was a big animal lover - the love of his life was his cat Kiki.
Eddy was predeceased by his parents, Arthur and Claudia, and by his wife of 26 years, Nicole. He is survived by his son Eddy Levesque, Jr. (Kathleen) of Verplanck, New York, and his daughters Nathalie Stephens (Kevin Cresci), Claudia Levesque (Joe Shaffer), and Athina Levesque (Phil Salisbury), all of Dutchess County, New York. He also leaves behind grandchildren Julien (Mackenzie), Christina (Peter), and Haley.
Visitation will be held at Joseph F. Nardone Funeral Home on Thursday, March 18, 2021, from 4:00 pm to 8:00 pm.
Chapel Service will be held at Joseph F. Nardone Funeral Home on Friday, March 19, 2021, at 10:00 am.
A livestream of the Chapel Service can be viewed [here].
Interment to follow at Assumption Cemetery.
In Lieu of Flowers donations in his memory can be made to Alzheimer's Association.