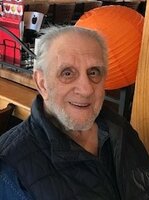 Alfred Joseph Reyes, Sr.
Alfred (Al) Joseph Reyes, Sr. passed away on October 2, 2021, at the age of 98.
Al Reyes was born in New York City on April 1, 1923, to Frances Alvarez and Plinio Reyes who had emigrated from Gibraltar, Spain.
He married Vera Sekac in 1942 and went on to have 5 children. Nancy Vorel of Florida, Alfred Reyes, Jr. of Florida, Linda Hanna, Philip Reyes of Florida, and Yvette Levan of Florida.
Al owned several auto repair shops in NYC until the late 50's when he changed his occupation and became a moving man. He then worked for several moving companies and retired from Day & Meyer in NYC. He moved his family to Cortlandt Manor in the 1960s where he resided until his death.
He was a hard-working, kind, and selfless man who loved his family. Despite working long hours, he was never too tired or too busy to help out someone who needed help. He also had a great love for all animals and fed stray cats for many years until his death.
Al is predeceased by his spouse of 48 years Vera, daughter, Linda Hanna, sister, Carmen Morrison of Putnam Valley, NY; and a brother, Pliny Reyes of Cortlandt Manor, NY.
He is survived by numerous grandchildren and great-grandchildren, too many to name here. He was a wonderful father, grandfather, and friend who will be greatly missed.
In lieu of flowers, please donate to an animal shelter of your choice or to Paws for Love in Cortlandt Manor, NY. That will really make him smile!
Visitation will be held at Joseph F. Nardone Funeral Home, 414 Washington Street, Peekskill on Thursday, October 7, 2021, from 2:00 PM to 7:00 PM.
Funeral Mass will be held at St. Columbanus Church, 122 Oregon Road, Cortlandt Manor on Friday, October 8, 2021, at 10:00 AM.
Interment to follow at Assumption Cemetery, 1055 Oregon Road, Cortlandt Manor.