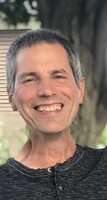 Raymond Michael Stollmer, Jr.
Raymond Michael Stollmer, Jr. of Hopewell Jct., NY passed away on Tuesday, October 19, 2021 surrounded by family and friends.
He was born on November 11, 1964 to the late Raymond and Nancy (D'Anna) Stollmer in Yonkers, NY.
Raymond was raised in Cortlandt Manor, NY. He graduated from Walter Panas High School in 1982. He and his wife Terri married in 1992 and raised their family in Hopewell Jct., NY. Ray's priority and greatest joy was spending time with his children. He coached them in their younger years and later he could always be found in the stands cheering them on at their high school and college athletic contests. He valued education and always encouraged and supported their studies and accomplishments.
Ray was a master plumber, astute businessman, and diligent entrepreneur, who founded his company, Rayter Inc., 30 years ago. In his free time, he enjoyed golfing, watching movies, rooting for the New York Rangers, spending time with family and friends, and singing in the shower (very loudly).
In August 2019, he was diagnosed with a rare and aggressive cancer, leiomyosarcoma. In spite of a dire prognosis, he was determined to live life to the fullest and take advantage of every moment he had with his loved ones. His kindness, selfless acts, and quick-witted humor will be missed by all.
Raymond is survived by his loving wife Terri Anne (Bolte) Stollmer and his two children, Nicholas Alexander Stollmer of Hopewell Jct., NY and Victoria Lynn Stollmer of Hingham, MA. He is predeceased by his sister Catherine Stollmer. He is also survived by his sister Suzanne DiPanfilo and her husband Leonard of Bronxville, NY, sister Elizabeth Stollmer and her partner Angelo of Norwalk, CT, brothers-in-law and sisters-in-law Mark & Lorraine Bolte of Cape Coral, FL, Kyle & Marvin Englert of Dawsonville, GA, Alyce & Steven Speziale of Fishkill, NY, Barbara & Stan Moore of Belgrade, ME, and Dana & Linda Bolte of Cold Spring, NY, and his many nieces and nephews.
Visitation to be held on Sunday, October 24, 2021 from 12:00 pm to 4:00 pm at Joseph F. Nardone Funeral Home, 414 Washington Street, Peekskill, NY.
Chapel service will be held during visitation at 3:00 pm.
Inurnment will be held on Monday, October 25, 2021 from 11:00 am to 11:30 am at Fishkill Rural Cemetery, 801 US Rt. 9, Fishkill, NY.
Donations in Ray's memory may be made to St. Jude Children's Research Hospital.