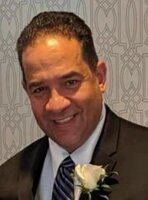 Eddie E. Pacheco
Eddie E. Pacheco passed away suddenly at Columbia Presbyterian Hospital on Friday, November 12, 2021 at the age of 57. He was born in the Bronx on the first day of November in 1964 to Gloria Colón and the late Antonio Pacheco.
To his family, Eddie was 'The Bear.' A fiercely protective, warm, and supportive person who was always ready to lend a helping hand. He gave love, support, and encouragement in any way he could, and shared so much of himself and his abilities with others. He knew and remembered each and every person who came into his life.
It was rare that he could go anywhere and not find a familiar face. He was our 'Mayor'-- another loving nickname given to him by his adoring family. He loved each and every person that he knew because his heart was just that big; he always had love and kindness to spare. He is beloved by his family, friends, and all who came to know him.
He is survived by his loving wife, Diane Pacheco. He is lovingly remembered by his children, Matthew, Gabriella, and Daniel; his daughter-in-law, Colleen, and grandson, Hudson. He is also lovingly remembered by his mother, Gloria Colón-Pacheco, and his siblings, Richard, Wendy, and Pamela. He will be missed by his nephews, nieces, aunts, uncles, cousins, childhood friends, and friends he gained along the way.
He is predeceased by his father, Antonio Pacheco.
The family will be receiving visitors on Friday, November 19, 2021 from 4:00 PM to 8:00 PM at Joseph F. Nardone Funeral Home, 414 Washington Street, Peekskill.
Chapel Service will be held on Saturday, November 20, 2021 at 1:00 PM at Joseph F. Nardone Funeral Home, 414 Washington Street, Peekskill.
Interment to follow at Assumption Cemetery, 1055 Oregon Road, Cortlandt Manor.