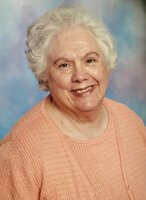 Barbara A. Rutkowski
Barbara Ann Rutkowski went to be with her Lord, passing away peacefully on December 9, 2021 at the age of 87.
Barbara lived in Cortlandt Manor, New York her entire life and was a very active community member.
She met Bernard Rutkowski during orientation when starting their teaching careers. They went on their first date at Yonkers Raceway and went on to share many years of marriage until Bernard passed away on February 5, 1982.
In addition to being a loving wife, she was also a loving mother of four. As a widow, she devoted most of her time to her family, her community and her church.
Her and Bernard, along with nine other families, were founding members of the Church of the Holy Spirit in Cortlandt Manor, New York.
Bernard started the Sunday School, at which she taught for many decades.
She touched the lives of many as a first-grade schoolteacher at Lincoln Titus Elementary School, from where she retired. Barbara volunteered at the Peekskill Community Hospital (now New York Presbyterian - Hudson Valley Hospital Center Auxillary, later becoming president for many years.
She was nominated into the Westchester County Senior Citizen Hall of Fame in 2000 and achieved several other awards for her service.
She loved classical music, playing the piano, needlepoint, and sewing. Her loving heart and kind spirit will leave a beacon of light to all that were blessed to know her. Her legacy will carry on because of her strong beliefs in religion and education that she passed on to her children, grandchildren and students.
She is survived by her children Charles (Martha) Rutkowski, Eric (Catherine) Rutkowski, Mark Rutkowski, and Betsy (Larry) Pasini. She will be remembered by her eleven grandchildren; Ashley (Jose) Gallegos, Amanda, Olivia, Ben, Lawrence, Dora, Julia, David, Troy, and Alex. As well, she will be lovingly missed by her two great-grandchildren; Sebastian and Oliver.
Visitation will be held on Monday, December 13, 2021 from 4:00 pm to 8:00 pm at Joseph F. Nardone Funeral Home, 414 Washington Street, Peekskill.
Funeral Mass will be offered on Tuesday, December 14, 2021 at 10:15 am to 11:00 am at Church of the Holy Spirit, 1969 Crompond Road, Cortlandt Manor.
Interment to follow at Assumption Cemetery, 1055 Oregon Road, Cortlandt Manor.