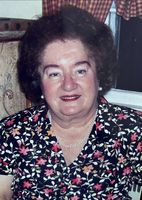 Dolores Marie Dimichele
Dolores Marie Dimichele passed away on December 16, 2021 at the age of 85.
She was born in Peekskill, NY on September 14, 1936 to Lino and Angelina (Ceconi) Dimichele.
A graduate of Peekskill High School, she spent 33 years as a keypunch operator at Reader's Digest in Pleasantville, NY.
"Aunt Dee Dee" was everyone's aunt. Whether you were a relative, friend or neighbor she left you feeling warm inside and that you were part of her family.
Always on the go, she could be found around town in her little blue car. She loved life, Elvis, good food, movies and especially being around people.
She never forgot a birthday, anniversary or any special occasion. Her kindness, thoughtfulness and caring knew no limits and she left an impression on everyone she met.
She will be forever missed by all and most certainly never forgotten.
She is predeceased by her parents, Lino and Angelina (Ceconi) Dimichele and her siblings Mary Marro, Catherine Cozzi, Alfredo Dimichele, and John Dimichele.
She is survived by several nieces and nephews as well as great-nieces and nephews.
Visitation will be held on Wednesday, December 22, 2021 from 2:00 PM to 4:00 PM and 7:00 PM to 9:00 PM at Joseph F. Nardone Funeral Home, 414 Washington Street, Peekskill.
Funeral Mass will be offered on Thursday, December 23, 2021 at 10:00 AM at Church of the Assumption, 920 First Street, Peekskill.
Interment to follow at Assumption Cemetery, 1055 Oregon Road, Cortlandt Manor.