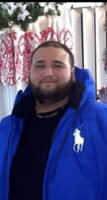 Charlie Bladimer Camacho
Obituary to follow shortly.
Visitation will be held on Friday, March 18, 2022 from 4:00 pm to 9:00 pm at Joseph F. Nardone Funeral Home, 414 Washington Street, Peekskill, NY.
Funeral Mass will be offered on Saturday, March 19, 2022 at 10:00 am at Church of the Assumption, 920 First Street, Peekskill, NY.
Interment to follow at Assumption Cemetery, 1055 Oregon Road, Cortlandt Manor, NY.