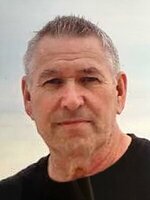 John Francis Grabowiecki
John (Gene) Grabowiecki passed away peacefully on the morning of March 12, 2022, at the age of 70.
John was born in the Bronx to Peter and Helen (Malinowski) Grabowiecki on September 29, 1951.
He attended St. Anthony's elementary school and Mount St. Michael High School.
He moved to Peekskill in 1974, and after several different careers, he became a City of Peekskill Police Officer on May 27, 1981. He retired on May 23, 1990, after being shot in the line of duty.
He has spent the last six and a half years working at Hendrick Hudson High School as a Senior Safety Security Officer.
Referred to as a 'gem', he was well-liked and respected by staff and students alike. His presence in the school will be sorely missed, especially by the cafeteria crew.
He loved traveling and traveled extensively to Machu Picchu, Egypt, Italy, Antarctica, and many other destinations. He loved the islands, especially St. Thomas.
An avid fan of James Bond in particular, he enjoyed movies, music and had a passion for astronomy. He had a talent for 'handy work' which he shared with many of his friends and family on various occasions.
He is survived by his loving sons, Christopher (Jamie Sandross), Michael (Rosa), and their mother Ausilia (Ceilia) Grabowiecki.
He will be affectionately missed by his long-time loving partner Anita Salvate. He will also be lovingly remembered by his adoring grandchildren Maximus, Jayden, Tyler, and Laila.
He was a very caring man who touched many lives and had life-long friends. His favorite comments were 'Don't dwell on it' and 'It is what it is'. He will be truly missed.
Visitation will be held on Wednesday, March 16, 2022, from 4:00 pm to 8:00 pm at Joseph F. Nardone Funeral Home, 414 Washington Street, Peekskill, NY.
Funeral Mass will be offered on Thursday, March 17, 2022, at 10:15 am at Church of the Holy Spirit, 1969 Crompond Road, Cortlandt Manor, NY.
Interment to follow at Assumption Cemetery, 1055 Oregon Road, Cortlandt Manor, NY.