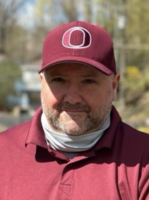 Michael Stephen Novotny, III
Michael 'Mike' Stephen Novotny III, of Ossining New York, passed away suddenly on May 30, 2022, in his favorite place, Ossipee, NH at the age of 47. He was born on June 11, 1974 to Maureen (Downing) and Michael Novotny, Sr. in Manhattan, New York.
After attending grammar school in Yonkers, Mike graduated from Dobbs Ferry High School and earned his Bachelor's Degree from Empire State College.
Mike married the love of his life, Michelle (Colamartino), and had two beautiful boys, Jack (10 years old) and Conor (8 years old).
Mike worked hard at a job he thoroughly enjoyed as a Local 3 Union Electrician, however his real love was spending time on the field with his boys and their teammates. Mike took great 'Ossining Pride' in volunteering his time on the board of both the local baseball and football organizations in addition to coaching Jack and Conor's Little League Baseball and Football teams. He was loved by every player and parent he encountered. Mike was a lifelong New England Patriot and Tom Brady fan.
He is predeceased by his father, Michael Stephen Novotny, Sr.
In addition to his loving wife and sons, he is survived by his mother, Maureen Novotny; his sisters Jennifer (Josh) Marks and Lauren (Daniel) Hernandez.
He will also be missed by his mother-in-law, Helen Colamartino; his sisters-in-law, Danielle (Marty) Currid, Marie (Gene) Colamartino; his niece Whitney and nephews Marty IV and Ryder.
He was the best father, best friend, best son, best sibling, best uncle, and best coach anyone could ask for. His loss will be felt by an entire community that loved him dearly.
We take great comfort in knowing that Mike passed away in a place that he loved after having what he described as "the best day he ever had at the lake."
Visitation to be held on Thursday, June 2, 2022, from 3:00 pm to 7:00 pm at Joseph F. Nardone Funeral Home, 414 Washington Street, Peekskill, NY.
Mass of Christian Burial will be offered on Friday, June 3, 2022, at 10:00 am at St. Augustine Roman Catholic Church, 381 N. Highland Avenue, Ossining, NY.
Interment to follow at Gate of Heaven Cemetery, 10 W. Stevens Avenue, Hawthorne, NY.