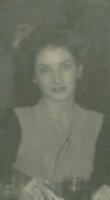 Doris Ruth Susa
January 25, 1927 - June 18, 2022
Doris Ruth Susa passed over peacefully on Saturday June 18, 2022, at her home in Lake Mohegan, NY.
Doris was the light of her children's lives—is the light of their lives.
Born on New York's lower East Side and raised in the Bronx, Doris learned how to navigate life's twists and turns early. She radiated tough, smart, and beautiful every single moment of every single day. Doris spoke her mind, held her peace, and stood her ground. Usually with a cigarette in one hand and a scotch in the other. She loved fiercely, she loved deeply.
Her husband, her knight, Nicholas, pre-deceased Doris twenty-nine years ago. Their reunion will be glorious.
Doris is survived by her children Bob (Eleanor), Steve (Nadiege), John (Kelly), and Nicole (Jen); her grandchildren Dana (Tomas), Leah (Chris), Madeline, Johanna and Joseph; and her great-grandchildren Brayden, Emelina, Lilly and Noah.
Mom (Nana), Thank You. We Love you so very much.
Interment and graveside service will be held on Tuesday, June 21, 2022 at 2:30pm at Hillside Cemetery, 1033 Oregon Road, Cortlandt Manor, NY.
In lieu of flowers, donations may be made to St. Jude Children's Research Hospital in Doris' memory.