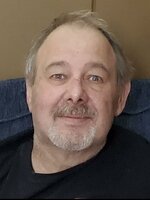 Gary E. Borrell
Gary Borrell, 63, a longtime resident of Cortlandt Manor, New York, passed away peacefully after a very long illness.
He was surrounded by his loved ones at New York-Presbyterian Hospital Center in Cortlandt Manor, New York on Sunday, June 19, 2022.
Gary was born in Peekskill on November 27, 1958, to Edward and Helen Arlene Borrell. He is predeceased by his father, Edward C. Borrell and his mother, Helen A. Borrell. Gary is survived by his loving wife of 38 years, Deborah J. (Scripter) Borrell and his loving daughter, Stephanie A. (Borrell) Byron. Gary attended Putnam Valley schools and graduated from Walter Panas High School. He loved spending time with his daughter and his grandchildren (James and Chelsie).
Gary was an auto mechanic for many years and then found a career as a bus mechanic at Lakeland School District. Gary held several titles in his lifetime, his favorites were, of course, Dad and Grandpa, but also he was known as The Mayor, Mr. GPS, and Mr. President. He was immensely proud of each title, and they all held a special place in his heart.
Gary's many hobbies included boats, motorcycles, bowling and trapshooting. He loved family time, family card games, camping in an RV, boating on the Hudson, and deep-sea fishing. He participated in several school bus rodeos where he took home many trophies. With each hobby Gary had, he always went in at full force at 110%.
His most enjoyable hobby was racing. He spent 20 years both building race cars from the ground up, to racing them on Saturday nights- mostly on dirt tracks but in later years on asphalt race tracks. He was always extremely knowledgeable in this field and he was always super happy to help anyone that wished to learn about cars. In most recent years, he was dedicated to building and showing classic cars. He restored several cars to showroom condition when all others would have given up, always in record time.
In lieu of flowers, please consider making a memorial donation to American Heart Association.
Visitation will be held on Wednesday, June 22, 2022 from 2:00pm to 4:00pm & 7:00pm to 9:00pm at Joseph F. Nardone Funeral Home, 414 Washington Street, Peekskill, NY.
Celebration of Life service will be held during visitation at 7:30pm.
Private cremation to follow.