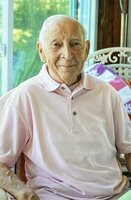 Richard Knizeski
It is with heavy hearts that we announce the passing of Richard "Richie" Knizeski on June 23, 2022 at the age of 79.
Richard was born in Peekskill on December 3, 1942 and attended Peekskill High School.
Lovingly known as the 'Mayor of Buchanan', Richie was usually out and about walking and talking around town. Often, he would be offering valuable advice, bringing up everyone's garbage pails after pickup and making sure every delivered newspaper found its way to the front door of each home.
It didn't matter what the weather, how he felt, or what life had handed him that day, he pushed ahead and his optimistic disposition shined right through with kindness toward others always.
He loved his wife of 52 years, Betsy, and was always concerned about how she was doing and how she felt that day. Arlene, his sister, and her husband Douglas were constant companions living just a house away. He loved his son Ricky and his daughter Michelle tremendously, but the twinkle of his eye always was for his granddaughters, Emma and Abbey. Whether it was taking them to the park or to a school event, Richie spent as much time as he could with them. It was easy to see they shared a bond and they made many treasured memories together.
After working as a bus driver for Lakeland Central School District, he worked as an equipment operator for the Village of Buchanan. Perhaps his favorite job was his most recent. Working at Dain's Lumber brought Richie such enjoyment. Often outside, you could count on a wave as you turned the corner onto Water Street. If Richie wasn't up at Dain's, he was most likely woodworking yard furniture and taking care of his garden, often taking his own plants out to replant in a friend's yard along with a table that he made.
Born and raised in Peekskill, he remained committed to the city becoming a 60-year member of Peekskill Fire Department – Centennial Hose Company 4. Also committed to the Village, he was a lifetime member of both Buchanan Fire Department and Buchanan Fire Police. Being a volunteer firefighter brought him a tremendous sense of pride and the department became his home away from home.
We hope that he has found a good place to ice fish in Heaven and is enjoying a Mike's with Ricky watching over all of us from above.
He was a big man in a small town and the neighborhood will never be quite the same again.
He is predeceased by his parents Jennie (Moretti) and Edward Knizeski and by his son, Richard 'Ricky' Edward Knizeski, II.
He is survived by his wife Elizabeth (Kavana) 'Betsy' Knizeski; his daughter, Michelle; his granddaughters, Emma and Abbey; and his sister Arlene (Douglas) Swankie; and many nieces and nephews.
If you would like to pay your respects, please see visiting and service times below.
Visitation will be held on Sunday, June 26, 2022 from 2:00PM to 4:00PM and 7:00PM to 9:00PM at Joseph F. Nardone Funeral Home, 414 Washington Street, Peekskill, NY.
Mass of Christian Burial will be held on Monday, June 27, 2022 at 10:00AM at Church of the Assumption, 920 1st Street, Peekskill, NY.
Interment to follow at Hillside Cemetery, 1033 Oregon Road, Cortlandt Manor, NY.