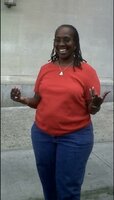 Delores Edney
Delores Edney, 72 of Peekskill, New York passed away in the arms of her sister Laverne McGee on June 26, 2022 after a valiant battle with cancer.

Delores was born on May 27, 1950 in Harlem, New York. After graduating from Washington Irving High School in Gramercy Park, New York, Delores went on to become a New York City bus driver for the MTA. Later on in life she became a successful real estate agent in Westchester County.

For a serious city person who grew up in the Lincoln projects and lived in Delano Village in Harlem, NY, Delores found the greatest joy in simple pursuits. She enjoyed fishing, gardening, taking care of her plants, spending time with her dog, watching westerns on tv and "messing with her electronics".

Delores is predeceased by her father, mother and her older brother Junior.

She is survived by her sister Laverne McGee, her niece Mariah McGee and a host of friends who will always remember her.

Delores left this world on June 26th at New York Presbyterian Hudson Valley Hospital.
Visitation will be held on Tuesday, July 5, 2022 from 1:00PM to 5:00PM at Joseph F. Nardone Funeral Home, 414 Washington Street, Peekskill, NY.
Celebration of Life Service will be held during visitation at 4:00PM.