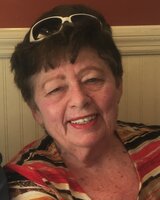 Marie F. Lenehan
It is with both sadness, but more so thankfulness for many fond memories, that we share the passing of Marie Lenehan on July 28, 2022. Our feisty Bronx Irish Catholic with a one-of-a-kind spirit will be missed by many.

Marie was sassy, spicy and certainly was not born with a filter, which made her uniquely enjoyable to be around. In recapping her life, it is doubtful that she would want a summary of her accolades and accomplishments, of which there were many. Rather, what was important to Marie was her family, her many strong and lasting friendships, her faith, and her ability to connect with people and take a genuine interest in their stories and well-being. Marie was proud beyond words of her Irish heritage, and her parents who immigrated from Ireland to New York in the early 1900s. Marie was a devoted daughter, and spent much of her life caring for her parents, with no questions asked. Marie was also fiercely Bronx, she made Bronx an adjective, not a location.
She was strong, resilient, and so on and so forth. Need a catchphrase or a cliché? Marie had one ready to go. Marie spent her life teaching, traveling, praying, partying, listening, golfing, helping, collecting, eating calamari, and drinking Bailey's. She loved and was loved by, her brother John, aka Jack. Many stories were shared about what was described as "excessive fighting" during their childhood. That said, as
time went on, their devotion to each other was truly beautiful to watch. Marie traveled the world, prayed for many, had an odd obsession with cough drops and pens, and always had a collection of books nearby. Marie very much loved and tortured her three awesome nieces, the favorite Ann, goddaughter Kathleen, and coming in third, Elizabeth Anne. She also truly loved her three nephews by marriage, Chris, Al, and Justin. That said, she would have traded them all in for her grand nieces and nephews, Maggie, Willow, Ray, and Landon, who brightened her spirit more than they may ever know. Marie also had great connections with her cousins here and in Ireland, and many friends who were dear to her heart.

The initial intention was to not to give Marie a generic obituary, because make no mistake, she was no generic woman. While that goal may or may not have been accomplished, let's raise a glass of Bailey's on the rocks to Marie for a life unapologetically well lived her way. Slainte Marie, until we meet again….

Visitation will be held at Joseph F. Nardone Funeral Home 414 Washington Street, Peekskill, NY on Monday, August 1, 2022, from 4:00 pm to 7:00 pm
Mass of Christian burial will be held at St. Mary's Church, 23 S. High Street, Mt. Vernon, NY on Tuesday, August 2, 2022, at 11:00 am
Interment to follow at St. Raymond's Cemetery, Bronx, NY