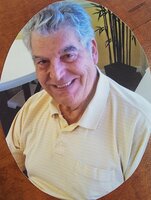 Herbert J. Fox
Herbert J Fox, Jr. of Davenport, FL. passed away suddenly from a heart attack on Wednesday, August 17, 2022 at the age of 88.
Herbert (Herb) was born to Herbert and Nettie (Delia) Fox on July 18, 1934 in the Bronx Borough of New York. He was welcomed by his elder sisters Catharine and Patricia and eventually, they all welcomed a younger sister Carol.
Herb served in the United States Navy during the Korean War beginning in 1951 and was honorably discharged in 1953. He went on to drive coach buses and eventually found himself working for the Town of Philipstown Highway Department until his retirement. He then migrated to North Carolina and eventually landed in Florida.
Outside of work, he was a proud volunteer firefighter for the Continental Village Fire Department. After retirement, Herb spent much of his time camping and traveling.
He loved listening to the music of his era, but Elvis and the Beatles never made it to his favorites list.
Herb can be described as a man of strong character with unshakable faith and a soft heart. His hard work and dedication to his family will not be forgotten.
Herb is predeceased by his first wife Rosemarie (Sacco) Fox and sisters Catharine Fox and Patricia (Fox) Martin; his stepdaughter Mary (Mortensen) Colson; and daughter-in-law, Teri Fox.
He is survived by his second wife, Clare (Mortensen) Fox; his sister Carol (Fox) Gilleo; his five children, Michael (Debbie) Fox, Robert (Kim) Fox, Herbert Fox, Salvatore (Jennifer) Fox, Vito (Diane) Fox; his stepson John Mortensen and his step son-in-law Daryl Colson.
He will also be greatly missed by 12 grandchildren, 11 great-grandchildren, as well as many nieces, nephews, great-nieces and great-nephews.
In lieu of flowers, donations may be made in memory of Herb to the American Heart Association, St. Jude Children's Research Hospital, or Shriners Hospitals for Children.
Visitation will be held on Thursday, August 25, 2022 from 3:00pm to 7:00pm at Joseph F. Nardone Funeral Home, 414 Washington Street, Peekskill, NY.
A Mass of Christian Burial will be offered on Friday, August 26, 2022 at 10:00am at St. Columbanus Church, 122 Oregon Road, Cortlandt Manor, NY.
Interment to follow at Assumption Cemetery, 1055 Oregon Road, Cortlandt Manor, NY.