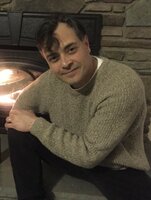 Damian Luke Calemmo
Damian Luke Calemmo passed away unexpectedly at his home in Cortlandt Manor, NY on September 30, 2022, at the age of 52.
The oldest of six siblings, Damian was born to Stephen and Roberta (Landi) Calemmo in the Bronx, NY on July 13, 1970.
He later settled in Cortlandt Manor, NY with his love, Kelli (Rapp) Calemmo, with whom he just celebrated 29 years of marriage.
They share two beautiful children, Nicholas and Mia, who were the light of his life.
When he wasn't spending time with his family, he enjoyed time on the lake fishing or running his successful private investigation business, Delta Claims Associates.
He enjoyed his time to the fullest and lived life with passion and purpose as can be seen by the many friendships he cultivated.
He is recently predeceased by his father, Stephen Calemmo. He is survived by his mother, Roberta (Landi) Calemmo, his wife Kelli (Rapp) Calemmo, and their children Nicholas Calemmo and Mia Calemmo. He is also survived by his siblings Justin Calemmo, Rachael (Peter) Lynch, Adrian (Margeaux) Calemmo, Adam Calemmo, and Gabriel Calemmo.
He will be lovingly missed by many aunts, uncles, cousins, nieces, nephews, and friends.
Visitation will be held on Tuesday, October 4, 2022, from 2:00 pm to 4:00 pm and 7:00 pm to 9:00 pm at Joseph F. Nardone Funeral Home, 414 Washington Street, Peekskill.
Mass of Christian Burial will be held on Wednesday, October 5, 2022, at 10:30 am at St. Columbanus Church, 122 Oregon Road, Cortlandt Manor.
Interment to follow at Assumption Cemetery, 1055 Oregon Road, Cortlandt Manor.