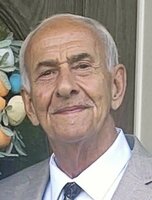 Michael John Mancuso
Michael John Mancuso, "Sensei Mike", passed away peacefully in the evening of October 11, 2022 at the age of 78. The epitome of a respectful and honorable gentleman, Michael cherished his family and friends, his service in the military, career in construction, brotherhood in IUOE Local 137, and his lifelong dedication to Okinawan Goju Ryu karate.
Born in Peekskill, NY on November 14, 1943, Michael was the middle child of Bernice and Frank Mancuso. He grew up on 723 Hudson Avenue with his older sister Beverly (Thaddeus Kogut) and younger brother, Frank Jr. Growing up, their home was filled with regular visits from family members, delicious food, and timeless traditions. As a boy, Michael was involved in Boy Scouts and the Sea Scouting Program. He showed great pride in his hometown and has fond memories of wonderful times at Drum Hill and Peekskill High School, where he was on the track team throwing shot put and discus, where he formed lifelong childhood friendships and enjoyed reconnecting with those former classmates during the planning of the Class of 1961 Reunions.
In 1963, he enlisted in the United States Air Force and was stationed on the island of Okinawa. During his service as a mechanic and maintenance technician for the Convair B-58 Hustler, he was awarded the Good Conduct and National Defense Service medals. It was also at this time when he was first introduced to Okinawan Goju Ryu karate.
Martial arts became a constant in his life, and through countless hours of training and dedication, he earned his black belt and began teaching in his dojo in New City during the late 1960's. Throughout the course of his training, he earned the highest honor of the style, 10th Dan (10th Degree Black Belt), membership in the Chojun Miyagi Society Hall of Fame, Executive Member and North American Director of the Jundokan dojo in Naha City, Okinawa. His name is synonymous with master in the global martial arts community.
Upon release from active duty in 1967, he attended Pace University and began his education to become a certified Crane Operating Engineer, and joined IUOE Local 137. He worked for many years as a crane operator at Colprovia, on the containment domes at Indian Point Power Plant, and ultimately earned a promotion to Master Mechanic, where he worked during the early 2000's supervising and managing the construction of the White Plains City Center. His membership in IUOE Local 137 was a source of great pride and accomplishment.
Michael enjoyed all sports, but especially boxing, football and basketball. He could often be seen cheering for his favorite team, the NY Jets, or spending time on the sidelines of the soccer field watching his son and daughter play, then again as a grandfather to watch his grandchildren compete in cross-country races, lacrosse, bowling, soccer, and basketball games.
He is survived by his devoted wife of 52 years, Diane Mancuso (Jennings), and loving children, Jason and Heather, son-in-law Tom Estep, and grandchildren Alan, Adam, Alyssa and Ashley, his niece Anastasia Wilczynski (Robert Wilczynski), great nephew Anthony Wilczynski, brothers-in-laws Frank (Patricia Jennings), Charles Jennings, Joseph Jennings, sisters-in-laws Arlene Zitzelsberger, Darlene (Pete Kobylarz) and countless aunts, uncles, cousins, nieces, nephews, grandnieces and grandnephews. Michael was quoted as saying, "No matter how much I have succeeded, I always reverted back to my family, that was my strength."
He never missed an opportunity to express his immense love for his beautiful wife, and boast of the accomplishments of his children and grandchildren. In his eyes, they were "the best".
Michael was predeceased by his younger brother, Frank in 1992, his sister, Beverly in 1995, his mother, Bernice in 1997, and father, Frank in 2004.
Special thanks to family and friends for their outpouring of love and support, especially Debi Pacia Pascale and Sensei Mark Dwyer.
Thanks also to Jhonnie Asoy from Carelinx, the nursing staff at Cedar Manor (Tim) and Phelps Memorial Hospital.
"When a great man dies, for years the light he leaves behind him, lies on the paths of men." –Longfellow
Visitation will be held on Sunday, October 16, 2022 from 3:00 pm to 7:00 pm at Joseph F. Nardone Funeral Home, 414 Washington Street, Peekskill, NY.
Mass of Christian Burial will be offered on Monday, October 17, 2022 at 11:15 am at Saint Elizabeth Ann Seton Church, 1377 E. Main Street, Shrub Oak, NY.
Private cremation to follow.