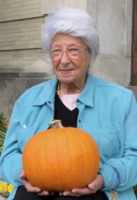 Juliet DeFino Tucceri
Juliet Delores (Pucciarelli) DeFino Tucceri passed away peacefully on October 17, 2022 at Emerald Peek Rehabilitation Center in Peekskill, NY.
She was born in New York City to the late John and Virginia (Luisi) Pucciarelli on March 23 of a year she preferred not to disclose.
The family, originally from Naples, Italy, settled in the Castle Hill section of the Bronx. Juliet, the youngest of eleven children, developed an affection for animals and became an avid horseback rider in her youth. She was also known to take in stray dogs in the neighborhood. She attended Walton High School in nearby Jerome Park. After completing school, she was hired as a secretary for the Edison Company.
Her life was full of interests including a good cup of tea, a swim in the ocean, ceramics classes, sketching, writing poems, teaching senior citizen painting classes, and learning dance routines on roller skates. She also volunteered for the Italian American club, serving as their secretary and event coordinator.
Later in life, she spent several years living independently at the Drum Hill Senior Living Community and in the last year found her new 'safe space' at Emerald Peek Rehabilitation, both in Peekskill.
She is predeceased by her parents, her grandson Louis C. Barbieri, Jr. (2016), her first husband Santo DeFino (1969), and her second husband Sebastian Tucceri (1995).
She is survived by her son Steven DeFino and his wife Marianne of Mahopac, NY as well as her daughter Barbara (DeFino) Barbieri and her husband Lou of Fishkill, NY. She will be missed by her grandchildren Cheryl (Barbieri) Jaffe and her husband Erik of Shrub Oak, NY, and Steven and Michael DeFino of Mahopac, NY. She also had many cousins, nieces, and nephews, by whom she will be lovingly remembered.
Most of all she will be remembered by family and friends as a "DIVA" who truly lived fully with spunk and spirit that was contagious to those around her.
The family would like to thank the Eucharistic Ministry of The Church of the Assumption for their many spiritual visits and the healthcare professionals who cared for her in later years for their patience, care, and kindness.
Donations may be made to the ASPCA in memory of her and her grandson, Louis C. Barbieri, Jr.