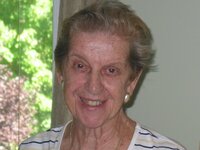 Mary Catherine Gale
Obituary of Maria 'Mary' Catherine Gale.
Mary passed away peacefully on October 27, 2022. She was born the youngest of four children on August 21, 1927 to the late William and Catherine (Marton) Buhs in Manhattan. She spent the majority of her life in Peekskill, marrying her sweetheart of over 71 years. Ronald and Mary became husband and wife on April 6, 1951 and went on to raise seven children together. A no-nonsense lady with endless energy, she enjoyed all that she could in her 95 years here. Throughout her life, she could be found on the tennis court, on the golf course, at the bridge table, walking the Peekskill track, singing at the Assumption Church, baking cookies, or spending time with her sweet cat Cali.
She enjoyed her career as a legal secretary working in Manhattan where she was working with all the 'movers and shakers'. Many recognized her years later from Pataki Farm and Adam Winters. She spent time volunteering at the Peekskill bookstore and teaching literacy to adults who were unable to read.
Ron could always get her goat with his sense of humor and she could give it right back. It is no wonder that many found the Gale residence a home they wanted to spend time in. She seemed to figure out the recipe for life, leaving lots of stories behind to help us find laughter through our tears. It is our hope that Max and Lotus were there to greet her in heaven and that she is surrounded by her loved ones and they look over us from above.
She is predeceased by her sons David and Ron, as well as her grandchildren Sean and Jessica Gale. She also is predeceased by her brothers Albert, Jack (Ann), and William Buhs.
She is survived by her children Rick (Dorothy) Gale, Karen (Tim) Petersen, Bob (Jeannine) Gale, John (Diane) Gale, and Mary (Tim) Young. She will also be missed by her grandchildren Jennifer, Christopher, Christie, Andrea, Daniel, Nicholas, Vincent, Michael, Sarah, and many great-grandchildren. She will be lovingly remembered by many cousins, nieces, nephews, and friends.
Visitation will be held on Sunday, October 30, 2022 from 4:00 PM to 7:00 PM at Joseph F. Nardone Funeral Home, 414 Washington Street, Peekskill, NY.
Mass of Christian Burial will be offered on Monday, October 31, 2022 at 11:30 AM at Church of the Assumption, 920 1st Street, Peekskill, NY.
Interment to follow at Assumption Cemetery, 1055 Oregon Road, Cortlandt Manor, NY.