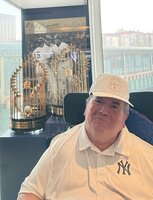 John Giacomo Gioacchini
John "Jack" Gioacchini of Peekskill, New York, passed away peacefully at Waterview Hills Nursing and Rehabilitation Center on November 19, 2022, at the age of 73.
Jack was born in Peekskill, New York on October 19, 1949. He is predeceased by his parents Jack and Julia (Bianco) Gioacchini. Jack is survived by his wife Christina, his sons John (Nicole), Steven, and Jeffrey, his brother Peter, and many nieces and nephews. Jack was a loving father, husband, brother, and friend.
Jack loved sports, especially baseball, where he was a dedicated fan of the New York Yankees. He worked as a math teacher for Lakeland School District at Copper Beach Middle School for over 30 years. He will be remembered for his amazing sense of humor, always having a smile or a joke ready for anyone he met, and for his incredibly kind spirit. Despite his battle with Multiple Sclerosis and other illnesses for many years, he continued to maintain a positive attitude. Everyone who knew him loved him, especially his wife and sons.
A special thank you to the people at Waterview Hills Nursing Home for their loving care and support during the last years of his life, especially during his final days.
Visitation will be held on Tuesday, November 22, 2022, from 3:00 pm to 7:00 pm at Joseph F. Nardone Funeral Home, 414 Washington Street, Peekskill, NY.
Mass of Christian Burial will be offered on Wednesday, November 23, 2022, at 10:00 am at Church of the Assumption, 920 1st Street, Peekskill, NY.
Interment to follow at Assumption Cemetery, 1055 Oregon Road, Cortlandt Manor, NY.