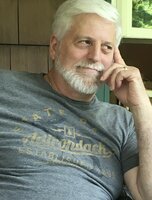 Mark Raymond Dandreano
Mark Raymond Dandreano passed away peacefully with his family by his side on November 25, 2022, at the age of 67. He was born the youngest of four children to the late Carmine and Angelina (Cascioli) Dandreano on August 17, 1955, in Valhalla, NY. After graduating from Valhalla High School, he attended Arizona State University on a full baseball scholarship and chose to major in architectural design.
Retiring from Croton Home Center in 2021, Mark spent 35 years answering questions and providing solutions for many homeowners' roofing and exterior maintenance needs. In his free time, he enjoyed fishing, building, the Minnesota Vikings, and the National Hot Rod Association races.
In perhaps an act of fate, he met his wife Kathleen (nee Galligan) when they waved to each other while commuting to work on 9A. When they came to a red light, he got out of his car and went up and asked her out. They were married on November 2, 1991 and together they rebuilt and designed the home they shared for the last 30-plus years.
In addition to building a house, they also built a home raising their three children, Elizabeth, Matthew, and Veronica. He was a homebody and was happy to work on his honey-do list and the unending projects that he found around the house. If the walls could talk, they would say that a beautiful family lived there and that Mark knew that all he needed in life could be found right in his own yard. He will always be in our thoughts and prayers and we will forever be his Binx, Bub, and Peanut.
Mark is predeceased by his parents Carmine and Angelina as well as his brother-in-law, Brian Baisley.
He is survived by his wife Kathleen and his children Elizabeth, Matthew, and Veronica. He will also be lovingly remembered by his sisters Fran (Peter) O'Connell and Pam Baisley as well as his brother Eddie Dandreano.
Visitation will be held on Tuesday, November 29, 2022, from 3:00 pm to 7:00 pm at Joseph F. Nardone Funeral Home, 414 Washington Street, Peekskill, NY.
Chapel Service will be held during visitation at 6:00 pm.
In lieu of flowers, donations may be made to St. Jude Children's Research Hospital.