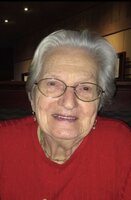 Victoria Vasquez
Victoria Vasquez of Peekskill, New York, formerly of Staten Island, New York, passed away on Sunday, January 8, 2023. She was 94 years old, born on December 4, 1928, to Herman and Filomena Buczynski. She was married to Gabriel Vasquez who predeceased her on January 7, 1991.
Victoria enjoyed many crafts including ceramics, knitting, crocheting, and beading. She passed the time doing sudoku and puzzles. Victoria truly enjoyed listening and dancing to the Oldies and to an occasional Polka. Everyone who knew Victoria knew how much she loved her chocolates!
Victoria retired from Cambridge Instruments, a medical supply factory in Ossining, New York. After retiring she spent her time traveling, visiting family, and spending lots of quality time with her grandchildren and great-grandchildren.
Victoria is survived by two daughters Philomena Hoar (Gary) of Chesapeake, Virginia, and Victoria Mastrantuono (Mike) of Cortlandt Manor, New York; four grandchildren, Philomena Pridgen (Chris), Jennifer Cleveland (Matthew), Samantha Ceretta (Julian) and Sarah Mastrantuono; and five great-grandchildren, Luisa and Colton Pridgen, Madeline and Rory Cleveland, and Alessia Ceretta.
Visitation will be held on Thursday, January 12, 2023 from 4:00 to 7:00 pm at Joseph F. Nardone Funeral Home, 414 Washington Street, Peekskill, NY.
Mass of Christian Burial will be offered on Friday, January 13, 2023 at 10:15 am at Church of the Holy Spirit, 1969 Crompond Road, Cortlandt Manor, NY.
Interment to follow at Rose Hills Memorial Park Cemetery, 101 Mill Street, Putnam Valley, NY.
In lieu of flowers, donations may be made in Victoria's memory to the Alzheimer's Association