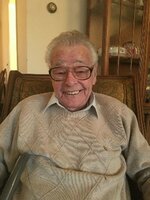 Louis Patrick Catano
Louis Patrick Catano, Jr., 87, of Yonkers, New York passed away on January 9, 2023.
Louis was predeceased by his parents, Louis and Marie (Shevlin) Catano formerly of Cortlandt Manor, NY, his wife Mary Catano formerly of Yonkers, NY, his brothers John Catano and Frank Catano, and his sisters Theresa Ryan and Anne Houricane.
He is survived by many nieces and nephews. He will be dearly missed by his family and the many friends he had.
Rest in Peace Beloved Uncle. You will be forever in our prayers.
Funeral Mass will be offered on Tuesday, January 17, 2023 at 9:45 am at St. Joseph's Church, 15 Cedar Street, Bronxville, NY.
Interment and rendering of Military Funeral Honors to follow at Gate of Heaven Cemetery, 10 W. Stevens Avenue, Hawthorne, NY.