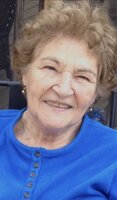 Carmella M. Spano
Carmella 'Millie' (Picciano) Spano passed away on January 28, 2023, in Peekskill, NY at 90 years old.
She was born and raised in Peekskill on March 16, 1932, to the late Rocco and Concetta (Lamondo) Picciano.
Millie met the love of her life, Christopher Spano, whom she married on October 28, 1951. They spent 37 short but wonderful years together until his passing in 1988.
In addition to raising their four children, she worked in food services at Walter Panas High School in Cortlandt Manor, NY for 30 years. While her family at home was her world, she brought joy and nurtured her work family and students as well.
She was a communicant at the Church of the Holy Spirit and also an active participant at the Town of Cortlandt Senior Center. Millie made friends everywhere she went and those friends quickly became family. Her warm spirit and genuine nature were felt by all who were lucky enough to have crossed paths with her. She was a wonderful mother, grandmother, sister, aunt, and of course friend.
She is survived by her four children: Christopher (Chris) Spano, Donald (Rose) Spano, Diane (Mario) Tucci, and Sharon (George) Hayden, and nine grandchildren: Anthony Spano, Vincent Spano, Jennifer Spano, Nick Spano, Dan Spano, Teresa Spano, Jessica Tucci, Dianna Tucci, and Christopher D'Ambrosio. She will be greatly missed by her six great-grandchildren as well as many nieces and nephews. She will be lovingly remembered by her brothers Rocco Picciano and Philip Picciano.
She was predeceased by her parents and her loving husband, as well as Gloria Boniello, Antoinette Picciano, Joseph Picciano, and Mary Ann Picciano.
Funeral Mass will be offered on Friday, February 3, 2023, at 11:30 am at Church of the Holy Spirit, 1969 Crompond Road, Cortlandt Manor, NY.
Entombment to follow at Hillside Cemetery, 1033 Oregon Road, Cortlandt Manor, NY.
In lieu of flowers, donations may be made in her memory to Nor-West Regional Special Services, PO Box 420, Crugers, NY 10521.