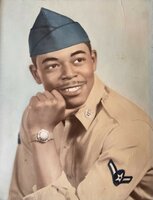 Phillip Alexander Sr
Phillip Alexander, Sr. passed away on February 3, 2023, at the age of 84, in Valhalla, New York. His battle with serious medical issues in recent weeks showed his strength and willingness to fight, even against daunting odds. Despite the many setbacks, Phillip came out a hero and stayed strong until the end. As a huge fan of boxing, he'd appreciate the quote by Mike Tyson: " You never lose until you actually give up." He never gave up.

Phillip grew up in New York City with his late brother, Robert, and his late parents, Robert, Sr. and Florence (Tillman) Alexander.
He attended and graduated from DeWitt Clinton High School in 1956 and at the ripe age of 18, joined the United States Air Force, where he served honorably.

In 1959, Phillip married the love of his life, Eva, and several years after having their first child, a baby boy, they moved to Greenburgh, NY to raise their growing family. A far cry from the city life they were accustomed to. While enjoying life as an avid gardener, jogger, and home cook, Phillip settled into suburban life.
For the next several decades, he continued to relish life, working as a Corrections Officer on Rikers Island, and spending equal time between the garden and the kitchen.

Now it's many years later and he's come full circle, and prayerfully, he's reunited with his brother and parents. But as much as things have changed for everyone, two things remain the same: he is still our hero and he is still loved more than he could ever know.

Phillip is survived by his beautiful wife, Eva, his loving children, Phillip Jr., and Lisa, and their spouses, Marcus and Ginael. He will be missed by his adoring grandchildren Sheridan, Jordan, and Jasmine who made him proud every day. He was also blessed to have had Tyshawn and Tichina in his life who will remember him lovingly as well. He also leaves behind his great-grandson, Jasper, who melted his heart. He will be thought of with a smile by a host of cousins, nieces, and nephews, all along the east coast, whom he loved fiercely.

Phillip's remains will be cremated and he will be honored in a Celebration of Life on Friday, February 10, 2023 from 3:00 pm to 5:00 pm at Joseph F. Nardone Funeral Home, 414 Washington Street, Peekskill, NY.
Rendering of Military Honors and Chapel Service will be held during visitation at 4:00 pm.
In lieu of flowers, donations may be made to Make-A-Wish Foundation.