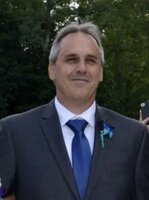 Nicholas Pizzella
After a courageous battle with cancer, Nicholas 'Nick' Pizzella passed away peacefully at home, surrounded by his family, on February 6, 2023, at the age of 59. He was born in Peekskill on October 18, 1963, to the late Victor and Margaret (Webberly) Pizzella. Margaret raised Nick and his seven siblings in Montrose and he continued to be a part of the local community by establishing his plumbing business, Mid-Hudson Mechanical, in Peekskill.
Nick was truly an individual, and he lived life to the fullest. Family was always his first priority. He especially enjoyed spending time with his children and granddaughter. His favorite activities were riding his dirt bike, fishing, and trips to the beach. He loved the ocean so much, he re-created a part of it at home in the form of a beautiful 90-gallon saltwater tank that he maintained for years. Endlessly creative and inventive, he could build or fix anything and was always busy with projects. Nick was also a spitfire; his sense of humor was effortless and he could make anyone laugh. We have all inherited a part of his personality and while we will miss him terribly, we know he lives in each of our hearts.
We are comforted to know that he is now in heaven with his mother, Margaret, and his sister, Catherine.
He leaves behind his children Amanda, Samantha, and Joseph, and his granddaughter, Jane. He will be lovingly remembered by his siblings Carol, Barbara, Donna, Victor, John, and Maryanne. Known fondly as 'Uncle Nicky', he will be missed by many nieces and nephews as well.
Visitation will be held on Saturday, February 11, 2023, and Sunday, February 12, 2023, from 3:00 pm to 7:00 pm at Joseph F. Nardone Funeral Home, 414 Washington Street, Peekskill, NY.
Mass of Christian Burial will be held on Monday, February 13, 2023, at 10:15 am at Church of the Holy Spirit, 1969 Crompond Road, Cortlandt Manor, NY.
Interment to follow at Assumption Cemetery, 1055 Oregon Road, Cortlandt Manor, NY.