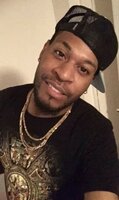 Juan Kevin Terry, Jr.
On Monday, February 27, 2023 Juan Kevin Terry Jr. entered peacefully and unexpectedly into eternal rest at his residence.
Juan was born to Shirrel and Juan Sr. on September 22, 1985, at Mount Vernon Hospital in Mount Vernon, NY.
Juan graduated from Peekskill High School in 2003. He continued his education graduating from Post University in 2007 earning a B.A.
in Business Management. Juan was also a member of the Post University Men's Cross Country, Dynasty Step Squad and The
Collegiate Religion Coalition while attending college. Juan held several positions at several different companies during his time
working in the retail profession.
You knew when Juan entered a room if it wasn't for the outfits he put together, it was his loud voice either having a conversation,
laughing, or talking junk. Juan enjoyed fishing, cooking (with all his spices), and spending time with family and friends having fun. He was
the one all over the dance floor.
Juan is predeceased by his grandfather Nathan Oglesby, his grandmother Odessa Prescott, his step-father Stanley Letcher and his dog Citty.
Besides his parents, Juan leaves to mourn his passing, grandmother Ruth Smith, great-grandmother Estelle Coy, three brothers; Jay
Green (wife Brittney), Koran Terry, and Shaheim Terry. Two step-brothers Giovonni (Johnny) Willis and Stanley Jr. Lancols and one-
stepsister Joyce Mann, aunts (Wanda and Victoria (husband Charles), uncles (Nathan, Michael (wife Tarah), Harold (wife Pat) and
George), several nieces, nephews, cousins, extended family, and friends. Juan will be missed by all who knew and loved him.
Visitation will be held on Tuesday, March 7, 2023 from 10:00 am to 11:00 am at Mount Lebanon Baptist Church, 648 Harrison Avenue, Peekskill, NY.
Celebration of Life Service will be held at 11:00 am immediately following visitation.
Private cremation to follow.