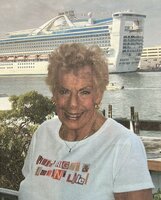 Blossom Lily Birkenbach
We are sad to announce the passing of Blossom Lily Birkenbach of Peekskill, New York. Blossom died at the age of 96 on March 6, 2023, after a brief illness.
Blossom was the devoted wife of Manfred for over 55 years. She had two daughters, Melissa and Aleta, and six grandchildren, James Joseph, Dana Joseph, Sara Stang, Derek Stang, Austen Stang, and Erika Stang. She was employed by Empire Blue Cross Blue Shield in Yorktown Heights, New York for over 20 years. Blossom loved to write short stories and was active in local community theater for many years. She was an avid traveler and adored cruising throughout the Caribbean and the Americas. Blossom will be remembered as a vivacious, witty, fun-loving woman who was passionate about reading and exploring many different genres during her long life. She was also a dedicated animal advocate for all species. In particular, she rescued and cared for many cats, establishing a bereavement group for pet caregivers who had experienced the loss of their furry companions, drawing upon her own experiences with the many furbabies that she'd nurtured.
Blossom was an outgoing-and outspoken- unforgettable presence in many lives that she was such an impactful part of –her family, her friends, her coworkers, and everyone else who knew and admired her.
The light of her essence lives on in our memories of her. Rest in peace and love, dear Blossom.
Visitation will be held at Joseph. Nardone Funeral Home 414 Washington Street, Peekskill, NY on Monday, March 13, 2023, from 9:00 am to 11:00 am
Entombment to follow at Rose Hill Memorial Park Cemetery 101 Mill Street, Putnam Valley, NY.