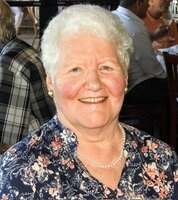 Elinor Agnes Wassmann
Elinor Agnes Wassmann died peacefully at Shaker Place Rehabilitation and Nursing Center in Albany, NY after a long illness. She was 84 years old.
Elinor was born on March 12, 1939 in Yonkers, NY to William H. Clear and Agnes E. VanMetter. She graduated in 1957 from Blessed Sacrament Academy for Girls in Yonkers. In 1962, while working for AT&T, she met her husband, James A. Wassmann. They were married in January 1963 and in 1971 moved with their children to Highland Falls, NY, outside of West Point where James was employed as a bartender at the Officers Club. Elinor would later work at USMA Post Exchange and then retired from the Child Development Center also on West Point.

Elinor was a loving mother and grandmother that always put her family first, right up until her very last day. Her family was her life!

Elinor was predeceased by husband James and her sister, Linda R. Spera formerly of Brookfield, CT.

She is survived by her daughter Patricia Eccleston and her husband Douglas of Ballston Spa, NY; her son Joseph Wassmann of Monterey, CA; her grandson Joshua Zint and his wife Jessica of Waterford, NY; her step-grandchildren Eric Eccleston and family of Schodack Landing, NY and Robin Rule and family of Wallkill, NY; nephews Frank and Christopher Spera both of Connecticut.
Visitation will be held on Monday, May 1, 2023, from 3:00 pm to 7:00 pm at Joseph F. Nardone Funeral Home, 414 Washington Street, Peekskill, NY.
Interment will be held on Tuesday, May 2, 2023, at 11:00 am at Hillside Cemetery, 1033 Oregon Road, Cortlandt Manor, NY.