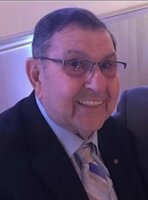 William Joseph Salicco, Sr.
William Joseph Salicco, Sr., 89, of Peekskill, New York and Pembroke Pines, Florida, passed away on May 6, 2023, in Pembroke Pines, Florida.

William was born to the late Rocco and Aurora Salicco on December 7, 1933, in Buchanan, New York. After attending Hendrick Hudson High School, he went to trade school with Local 3 becoming a union electrician until retirement. He was a life member of the Knights of Columbus # 462. He was an usher at both the Church of the Holy Spirit, in Cortlandt Manor, New York as well St. Edwards Church in Pembroke Pines, Florida. In Florida, he loved riding around in the golf cart with the maintenance man, Juan, at his complex. He was also the president of the Homeowners Association.

He is predeceased by his wife of 59 years, Jacqueline Salicco, his parents Rocco and Aurora Salicco, and 2 brothers Joseph Salicco and Emmanuel Salicco.

He is survived by his only sister, Frances Stellato and his 5 children: Catherine Bischoff, William Salicco, Jr., Susan Salicco, Marilu Salicco, and Michelle Salicco. He will be lovingly remembered by his grandchildren Christine Bischoff, John (Monika) Bischoff, Jennifer (Thomas) Celia, and Zachary (Marissa) Sheridan and his great-grandchildren Melissa Salicco, Bennie Harris, Ziva Harris, Isabel Jimenez, Ethan Jimenez, Raelynn Celia, Adeline Bischoff, and Ellie Mae Bischoff. He is also survived by many nieces and nephews.
His family was his life and he will be greatly missed by all.
Visitation will be held on Friday, May 12, 2023, from 2:00 pm to 4:00 pm and 7:00 pm to 9:00 pm at Joseph F. Nardone Funeral Home, 414 Washington Street, Peekskill, NY.
Mass of Christian Burial will be offered on Saturday, May 13, 2023, at 9:30 am at Church of the Holy Spirit, 1969 Crompond Road, Cortlandt Manor, NY.
Interment to follow at Assumption Cemetery, 1055 Oregon Road, Cortlandt Manor, NY.