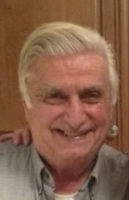 Frank Arcara
Frank Arcara, Jr., 85, of Cortlandt Manor, NY, passed away on May 11, 2023. He passed away at Cortlandt Healthcare Center due to a chronic medical condition. Frank was born on February 24, 1938 to Clara and Frank Arcara in White Plains, NY. Frank was one of three brothers who are Jack Arcara and Joseph Arcara. On July 21, 1971, Frank married Lorraine Arcara and has one daughter. Frank worked for Metro North Railroad as a Mechanic for many years until his retirement.

Frank enjoyed many hunting trips with his brothers and friends. Frank also enjoyed going fishing with his daughter, granddaughter, brothers, and cousin. Another of Frank's favorite past times was camping. Frank enjoyed camping with his friends and family in his motorhome at many different campgrounds. In Frank's spare time, he worked on lawnmowers, riding tractors, hedge trimmers, weed whackers, and chainsaws. Frank was especially proud of being a father and grandfather. He took pride in his family and would do anything for them. Frank had a heart of gold, would give you the shirt off his back, and was always there for you when you needed a helping hand or someone to just shoot the breeze with.

Frank is predeceased by his parents, Clara and Frank Arcara. Also, Frank's brother, Jack Arcara, and his wife, Lorraine Arcara.
Frank is survived by his daughter, Jennifer (Arcara) Thomas of Cortlandt Manor, NY; granddaughter, Dana Arcara of Cold Spring, NY; grandson, Christopher Thomas, Jr. of Cortlandt Manor, NY; great-grandson, Wyatt Barnett of Cold Spring, NY; brother and sister-in-law, Joseph and Dee Arcara of Harrison, NY and many other family members.

Frank was truly loved by many and will be truly missed.
Visitation will be held on Monday, May 15, 2023, from 2:00 pm to 4:00 pm and 7:00 pm to 9:00 pm at Joseph F. Nardone Funeral Home, 414 Washington Street, Peekskill, NY.
Chapel Service will be held on Tuesday, May 16, 2023, at 9:30 am at Joseph F. Nardone Funeral Home, 414 Washington Street, Peekskill, NY.
Interment to follow at Assumption Cemetery, 1055 Oregon Road, Cortlandt Manor, NY.