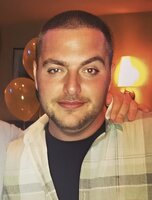 Peter Anthony Malaspina
It is with great sadness that we announce the passing of our beloved Peter Anthony Malaspina on May 17, 2023, at the age of 36.
Peter was born to Francis and Helene (Lowenstein) Malaspina on June 24, 1986. A graduate of Walter Panas High School, he went on to a fulfilling career at Westchester Medical Center. He used his gift of being able to relate to any person he met to bring comfort and care to so many patients.
He was known to all as a social butterfly, always making everyone laugh while being sensitive and compassionate. He never passed judgment and in return was loved by so many. He left everyone he met better off for having known him.
We were blessed to have been his family and our life was certainly better for having had him for the short time we did.
He is survived by his mother Helene Malaspina, his sisters Emily (Thomas) Nesi and Angela (James) Malaspina, and his nephew, Jack Nesi.
We know that he is with his beloved father, Frank, in heaven and we will look for continued signs of their presence in our lives.
'A beautiful life that came to an end.
He died as he lived, everyone's friend.
In our hearts a memory will always be kept,
Of one we loved and will never forget.'
In lieu of flowers, donations can be made to Garden of Dreams Foundation
Visitation will be held on Sunday, May 21, 2023, at Joseph F. Nardone Funeral Home, 414 Washington Street, Peekskill, NY from 3:00 pm to 7:00 pm.
Chapel Service will be held during visitation at 6:00 pm.
Private Cremation to Follow.