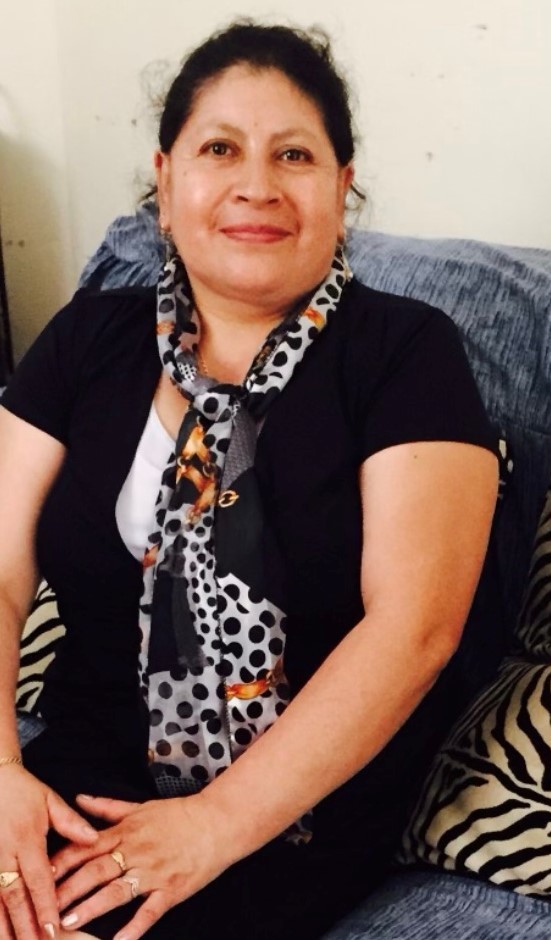 Share Your Memory of
Julia


Obituary of Julia Guanga
It is with great sadness the family of Julia Guanga announces her sudden passing due to complications from Covid-19. She was only 59 years old.
Julia was a beloved wife, mother, grandmother, daughter, sister, aunt, cousin, friend, and co-worker.
Julia emigrated to the United States in 1996 to give her children a better future. When she first came to work in New York, she had to leave her children, Christian, Veronica, and Joanna behind in Ecuador. This caused her and her husband, Luis, great sadness. Eventually, they were able to reunify the family. Thanks to the grace of God, she was again with her children and this brought her great happiness. Julia was a very hard working person. She worked many jobs and as a result, her health suffered. She struggled and recovered like a strong person but not everything was complete. As an undocumented immigrant, she had to do whatever work was available and, of course, with little salary and was discriminated against by her employers, like every person exploited by not having papers. In 2019, she applied to change her status. Julia's immigration journey was complicated as laws kept changing, however in middle 2020, she became a Permanent Resident. With the security of permanent residency, Julia was able to make another dream come true: to visit her country, Ecuador, in Late 2020. Julia loved being able to see her mother again, although her father had already passed away without being able to say goodbye when he could not travel. Sadly, Julia became infected with COVID a few days before returning to the United States and had to change plans. Though she became ill, she was able to recover with the strength of God. Upon returning to the United States Julia's health declined. She experienced shortness of breath and went to the Hospital in December 2020. She fought bravely until February 2021, when she turned off her light and left this earth.
Julia's spirit will live on through her loved ones forever.
Visitation will be held at Joseph F. Nardone Funeral Home on Sunday, February 7, 2021, from 2:00 pm to 8:00 pm.
Funeral Mass will be held at the Church of the Assumption on Monday, February 8, 2021, at 10:00 am.
Interment to follow at Assumption Cemetery.
To view the Livestream service for Jilua Guanga, access here.
Es con gran tristeza que la familia de Julia Guanga anuncia su repentino fallecimiento debido a complicaciones del Covid-19. Tenía solo 59 años.
Julia era una amada esposa, madre, abuela, hija, hermana, tía, prima, amiga y compañera de trabajo.
Julia emigró a Estados Unidos en 1996 para darles a sus hijos un futuro mejor. Cuando llegó por primera vez a trabajar a Nueva York, tuvo que dejar a sus hijos, Christian, Veronica y Joanna en Ecuador. Esto les provocó a ella y a su esposo, Luis, una gran tristeza. Finalmente, pudieron reunir a la familia. Gracias a la gracia de Dios, volvió a estar con sus hijos y esto le trajo una gran felicidad. Julia era una persona muy trabajadora. Tuvo muchos trabajos y como resultado, su salud se deterioró. Luchó y se recuperó como una persona fuerte, pero no todo estaba completo. Como inmigrante indocumentada, tenía que hacer todo el trabajo disponible y, por supuesto, con poco salario y era discriminada por sus empleadores, como toda persona explotada por no tener papeles. En 2019, solicitó cambiar su estado. El viaje de inmigración de Julia se complicó a medida que las leyes cambiaban, sin embargo, a mediados de 2020, se convirtió en residente permanente. Con la seguridad de la residencia permanente, Julia pudo hacer realidad otro sueño: visitar su país, Ecuador, a fines de 2020. A Julia le encantó poder volver a ver a su madre, aunque su padre ya había fallecido sin poder decirlo. adiós cuando no pudo viajar. Lamentablemente, Julia se infectó con COVID unos días antes de regresar a los Estados Unidos y tuvo que cambiar de planes. Aunque se enfermó, pudo recuperarse con la fuerza de Dios. Al regresar a los Estados Unidos, la salud de Julia se deterioró. Experimentó dificultad para respirar y fue al Hospital en diciembre de 2020. Luchó con valentía hasta febrero de 2021, cuando apagó la luz y dejó esta tierra.
El espíritu de Julia vivirá a través de sus seres queridos para siempre.
El velorio se llevará a cabo en la funeraria Joseph F. Nardone el domingo 7 de febrero de 2021, de 2:00 pm a 8:00 pm.
La misa fúnebre se llevará a cabo en la Iglesia de la Asunción el lunes 8 de febrero de 2021 a las 10:00 am.
Seguirá el sepelio en el cementerio de la Asunción.
Para ver el servicio de transmisión en vivo de Jilua Guanga, acceda aquí.
To send flowers to the family or plant a tree in memory of Julia Guanga, please visit Tribute Store
Visitation
2:00 pm - 8:00 pm
Sunday, February 7, 2021
Joseph F. Nardone Funeral Home
414 Washington Street
Peekskill, New York, United States
(914) 737-1363
Funeral Mass
10:00 am - 10:45 am
Monday, February 8, 2021
Church Of The Assumption
920 1st St
Peekskill, New York, United States
914-737-2071
Interment
11:15 am - 12:00 pm
Monday, February 8, 2021
Assumption Cemetery
1055 Oregon Road
Cortlandt Manor, New York, United States
(914) 736-5981