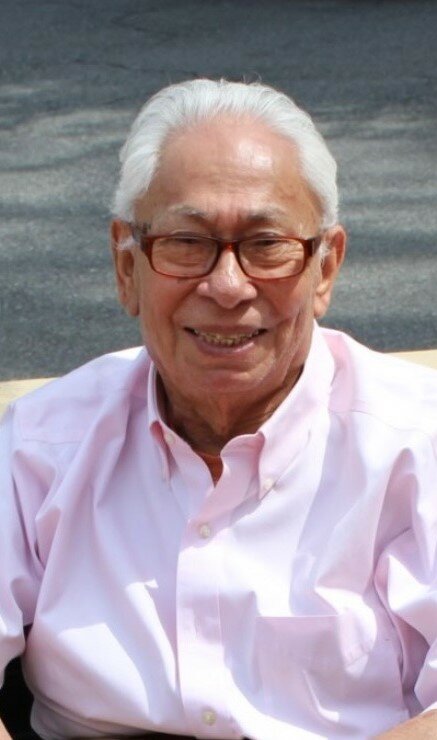 Share Your Memory of
Victor


Obituary of Victor Hugo Cedeno
Victor Hugo Cedeno Nacio en Cucuy, Ecuador el 20 de Mayo de 1931. Hijo de Francisco Miguel Cedeno Loor y Juana Matilde Bazurto Mendoza siendo el quinto de nueve hermanos. En 1950 se caso con
Gladys Edith Zambrano Intriago y tuvieron 7 hijos, 24 nietos, 30 biznietos y 5 tataranietos.
Betty:
Mi papá siempre me cuidaba, no le gustaba que saliera sola, ni andara en caballo o tocara el ganado. Mi mamá me llamaba "Betty Betty vengase a estar sentadita aca que su papá quiere
que este aquí junto a mi." Mi papá siempre me protegia y me cuidaba.
Victor Hugo:
Siempre fui el niño engreido de mi papá.
Antonio:
Siempre lo llamábamos "El Teniente" fue cariñoso conmigo y fue un buen padre para todos nosotros.

Eustacio:
Es un padre amoroso

Rubén:
Él me compro un carro, se lo compro a un señor apellido zambrano y después de pocos meses me dijo "mijo voy a vender el carro" y mi respuesta fue el carro es suyo yo no di ningún
centavo. Ahí está la firma papa y así siempre lo voy a recordar como un padre generoso, bondadoso, como uno de los mejores padres.

Richard:
Nunca voy a olvidar a mi padre

Gisella:
Fue un padre cariñoso que siempre me cuido, que yo pasaba con él en Cucuy y a mí me encantaba estar en Cucuy. Fue una persona muy trabajadora y que siempre trato de
complacerme y voy a recordar como él me decía "Niña." Mi papá siempre fue trabajador y bondadoso.
El velorio se llevará a cabo el lunes 27 de diciembre de 2021, de 5:00 pm a 9:00 pm en Joseph F. Nardone Funeral Home, 414 Washington Street, Peekskill, NY.
La misa fúnebre se ofrecerá el martes 28 de diciembre de 2021 a las 10:00 am en la Iglesia de la Asunción, 920 First Street, Peekskill, NY.
Seguirá el sepelio en el cementerio de la Asunción, 1055 Oregon Road, Cortlandt Manor, NY.
Victor Hugo Cedeno, He was born in Cucuy, Ecuador on May 20, 1931. Son of Francisco Miguel Cedeno Loor and Juana Matilde Bazurto Mendoza, being the fifth of nine siblings. In 1950 he married Gladys Edith Zambrano Intriago and they had 7 children, 24 grandchildren, 30 great-grandchildren, and 5 great-great-grandchildren.
Betty: My dad always took care of me, he didn't like me going out alone, riding a horse, or touching cattle. My mom called me "Betty Betty come sit here that your dad wants that he is here with me. " My dad always protected me and took care of me.
Victor Hugo: I was always my dad's favorite child.
Antonio: We always called him "El Teniente." He was kind to me and was a good father to all of us.
Eustacio: He is a loving father
Ruben: He bought me a car, I bought it from a man with the surname of Zambrano and after a few months he told me "Son, I'm going to sell the car" and my answer was the car is his, I didn't give any penny. There is the signature papa and thus I will always remember him as a generous, caring father, as one of the best parents. Richard: I will never forget my father Gisella: He was a loving father who always took care of me, that I spent with him in Cucuy and I loved being in Cucuy. He was a very hard-working person and he always tried to please me and I will remember how he used to say "Girl." My dad was always hard-working and kind.
Visitation will be held on Monday, December 27, 2021, from 5:00 pm to 9:00 pm at Joseph F. Nardone Funeral Home, 414 Washington Street, Peekskill, NY.
Funeral Mass will be offered on Tuesday, December 28, 2021, at 10:00 am at Church of the Assumption, 920 First Street, Peekskill, NY.
Interment to follow at Assumption Cemetery, 1055 Oregon Road, Cortlandt Manor, NY.
To send flowers to the family or plant a tree in memory of Victor Cedeno, please visit Tribute Store
Visitation
5:00 pm - 9:00 pm
Monday, December 27, 2021
Joseph F. Nardone Funeral Home
414 Washington Street
Peekskill, New York, United States
(914) 737-1363
Funeral Mass
10:00 am - 10:45 am
Tuesday, December 28, 2021
Church Of The Assumption
920 1st St
Peekskill, New York, United States
914-737-2071
Interment
11:15 am - 11:45 am
Tuesday, December 28, 2021
Assumption Cemetery
1055 Oregon Road
Cortlandt Manor, New York, United States
(914) 736-5981